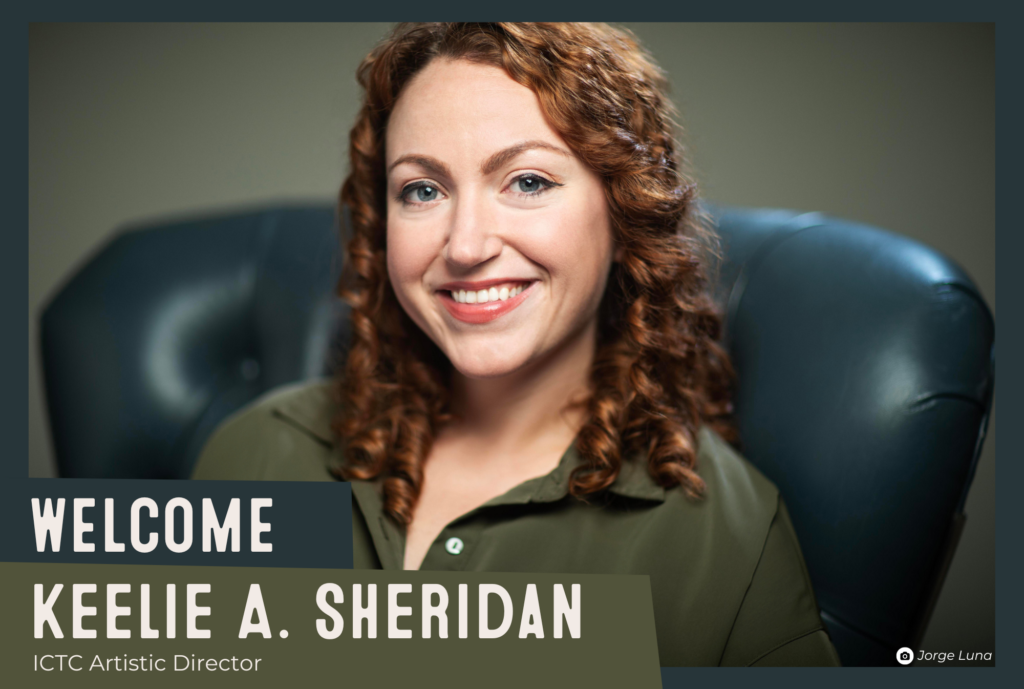 We are delighted to share with you an exciting new chapter in the history of ICTC. It is with great pleasure that we announce the appointment of Keelie A. Sheridan as our new Artistic Director, supported by Producing Director, Cassie Cameron, and our talented core Staff.
Sheridan is a performer, director, producer, and educator. She comes to ICTC from Schenectady, NY, after nearly two decades in NYC, and her journey with the Arts has been marked by a deep dedication and a remarkable fusion of academic knowledge and practical experience. With her impressive range of qualifications and creative insights, she embodies the spirit and mission of ICTC in an extraordinary manner.
Sheridan holds an MFA in Acting from Brooklyn College, an MFA in Directing from The Lir Academy of Trinity College Dublin, and was selected as a US-Ireland Alliance George J. Mitchell Scholar. She has performed at venues including The Public Theatre, 3LD, JACK NY, and Dixon Place, and was a finalist in the 2009 World Irish Dance Championships. She is Co-Artistic Director of The Ume Group, a physical theatre ensemble originating in NYC, and has an extensive physical theatre background, as well as training in Anti-Racist/Anti-Oppressive and Inclusive Theatre Practices, Consent-Based Theatre Practices, and Intimacy Choreography and Coordination.
Sheridan brings not only her talents but also her passion for storytelling and the performing arts. As a Company that treasures the rich tapestry of Irish heritage and classical theatre, we believe that Sheridan's expertise will take us to new heights of artistic exploration and expression. Her deep familiarity with both classical and contemporary Irish theatre makes her an ideal leader to steer our company towards a vibrant and inspiring future. Her vision echoes our commitment to presenting exceptional theatre experiences that captivate and resonate with diverse audiences. With her at the helm, we are eager to embark on a fresh artistic journey that holds promise and potential.
Upon her new appointment, Keelie shares: "I am thrilled to join the Irish Classical Theatre Company, and to build upon the legacy of previous leaders by guiding the company's next phases of evolution. I look forward to curating programming that contextualizes classical works within our modern landscape, examines the conversations between voices of the past and present, and explores the way Irish and American stories intersect or engage with other cultures around the world. I am particularly eager to share the high-caliber, award-winning work of the Irish Classical Theatre Company with audiences regionally, nationally, and globally. I hold highly the theatre's values of inclusion, diversity, equity, and access, and look forward to serving Irish Classical Theatre Company's existing community and expanding its network of artists and audiences."
Please join us in congratulating Keelie Sheridan on her appointment as Artistic Director of the Irish Classical Theatre Company. We hope you will join us in welcoming Keelie to Irish Classical on Curtain Up!, Friday, September 22nd at 8:00pm. Keelie will be making a special Curtain Speech for our Opening performance, followed by a complimentary Champagne Toast in the Chris O'Neill Lounge after the performance.
We are confident that her leadership will not only uphold our company's legacy but also forge an exciting new path that we can all be proud of. Thank you for your unwavering support.
KEELIE A. SHERIDAN BIOGRAPHY
Keelie Sheridan (she/her) is a performer, director, producer, and educator. Keelie has performed in new plays and physical/dance theatre at venues including The Public Theatre, 3LD, JACK NY, and Dixon Place. Keelie was nominated for Best Actor for her 2020 performance of Marianne in Nick Payne's Constellations, and won Best Direction for her 2021 production of Kate Hamill's Little Women. As Co-Artistic Director of The Ume Group, a physical theatre ensemble originating in NYC, she directed by wing, fin, hoof or foot, a piece about animal and human migration (NYIT Award Nomination for Outstanding Movement/Choreography). Keelie co-produced and directed several new works festivals, including The Lab at Grace & St. Paul's, UNFIX NYC, The Terry Schreiber New Works Initiative and The Schreiber Shorts, and devised/directed immersive, site-specific installations and performance art pieces with Chashama NYC and Creative Time. Keelie holds an MFA in Acting from Brooklyn College and was selected as a US-Ireland Alliance George J. Mitchell Scholar, which enabled her to complete her MFA in Theatre Directing at Trinity College Dublin/The Lir Academy. While in Ireland, Keelie worked on pieces of devised dance theatre, workshopped new plays with Irish writers and directed the European premiere of Grimly Handsome by Julia Jarcho. Keelie recently assisted Irish director Louise Lowe (ANU Productions) on the Irish Repertory Theatre/Landmark Productions' premiere of The Saviour by Dierdre Kinehan, starring Tony-award winner Marie Mullen, which will transfer to the 2023 Dublin Theatre Festival after it's NYC run. Keelie's debut feature film, planet b234, screened internationally from 2020-2022, winning awards including Best Escapism Film, Best Sci-Fi Feature and Best Male Performance, and is now available to stream on Amazon Prime. Prior to joining the Irish Classical Theatre Company, Keelie was an artist-in-residence at Union College, and served on performance/directing faculties at the University of North Alabama, City College of New York, Brooklyn College, and T Schreiber Studio. www.keeliesheridan.com