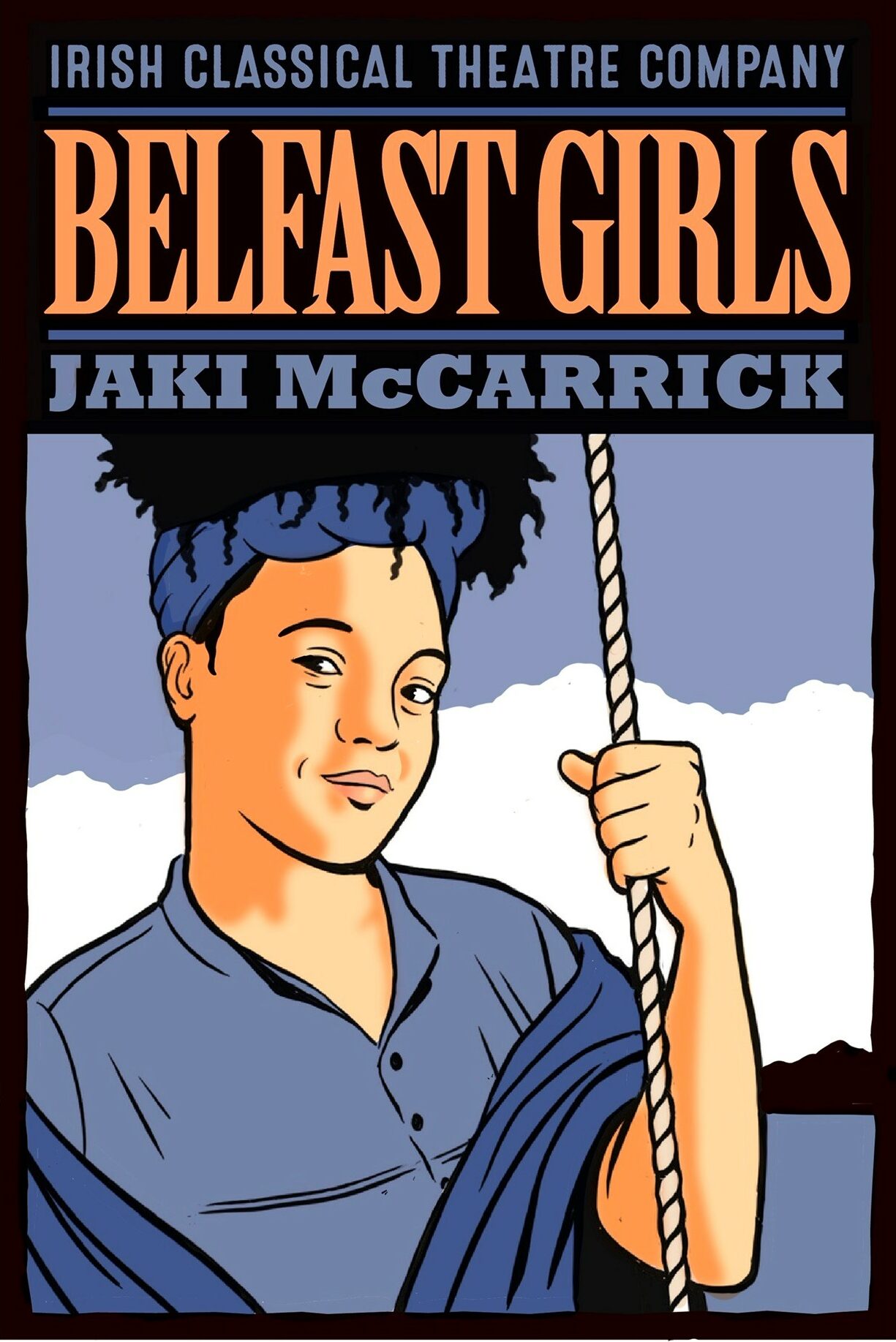 Show Information
View Irish Classical Theatre Company's production of Belfast Girls, September 22, 2023 – October 15, 2023.
Cast
Judith Noone Lily Jones †
Molly Duncan Solange Gosselin
Hannah Gibney Robyn Baun †
Ellen Clarke Cassie Cameron
Sarah Jane Wylie Renee Landrigan
† ICTC Debut 
ICTC Creative Team
Director
Kyle LoConti
Production Stage Manager
Brittany Wysocki †
Assistant Stage Manager
Ryan Wilkie
Dramaturg
Katie Boswell
Set Designer
David Dwyer
Lighting Designer
Jayson Clark
Sound Designer
Tom Makar
Costume Designer
Vivian Del Bello
Hair & Make-Up Designer
Susan Drozd
Props Master 
Diane Almeter Jones †
Props Assistant
Gillian Cavanaugh †
Fight Choreographer &
Intimacy Director
Shelby Converse †
Dialect Coach
Josephine Hogan
† ICTC Debut 
Belfast Girls
By Jaki McCarrick
September 22, 2023 – October 15, 2023
Directed by Kyle LoConti
The year is 1850, and five young women seek to escape the famine in Ireland aboard a ship bound for Australia. As they sail toward the promise of new lives in Sydney, they struggle to leave their pasts behind. Award-Winning Director Kyle LoConti makes her ICTC mainstage directorial debut with this heartfelt, new Irish play, starring Robyn Baun, Cassie Cameron, Solange Gosselin, Lily Jones, and Renee Landrigan.
Additional Programming:
Open Rehearsal (for Subscribers Only): Wednesday, Sept. 13, 2023, at 6:30 pm
Pay-What-You-Can Performance: Saturday, Sept. 23, 2023, at 3:00 pm
Industry Night: Saturday, Sept. 23, 2023, at 7:30 pm
Young Professionals Night: Thursday, Sept. 28, 2023, at 7:30 pm
Speaker Series: Sunday, Oct. 1, 2023, at 1:30 pm
Community Matinee: Wednesday, Oct. 11, 2023, at 10:00 am
ASL Interpreted/Open Captioned Performance: Thursday, Oct. 12, 2023 at 7:30pm
American Sign Language (ASL) Interpreted & Open Captioned Performances:
ASL interpreters are located in the North West corner of the theatre to give the best sightlines to follow the interpretation and action on stage.
An LED captioning screen, located in the South East corner of the theatre displays the dialogue and any other audio portion of the production in text form in sync with the performance.
For questions about reserving seating in view of the ASL interpreters and captioning signage, please contact ICTC's Box Office at 716-853-4282 (voice), or email BoxOffice@irishclassical.com.
Show Artwork by Michael Gelen, Inkwell Studios.