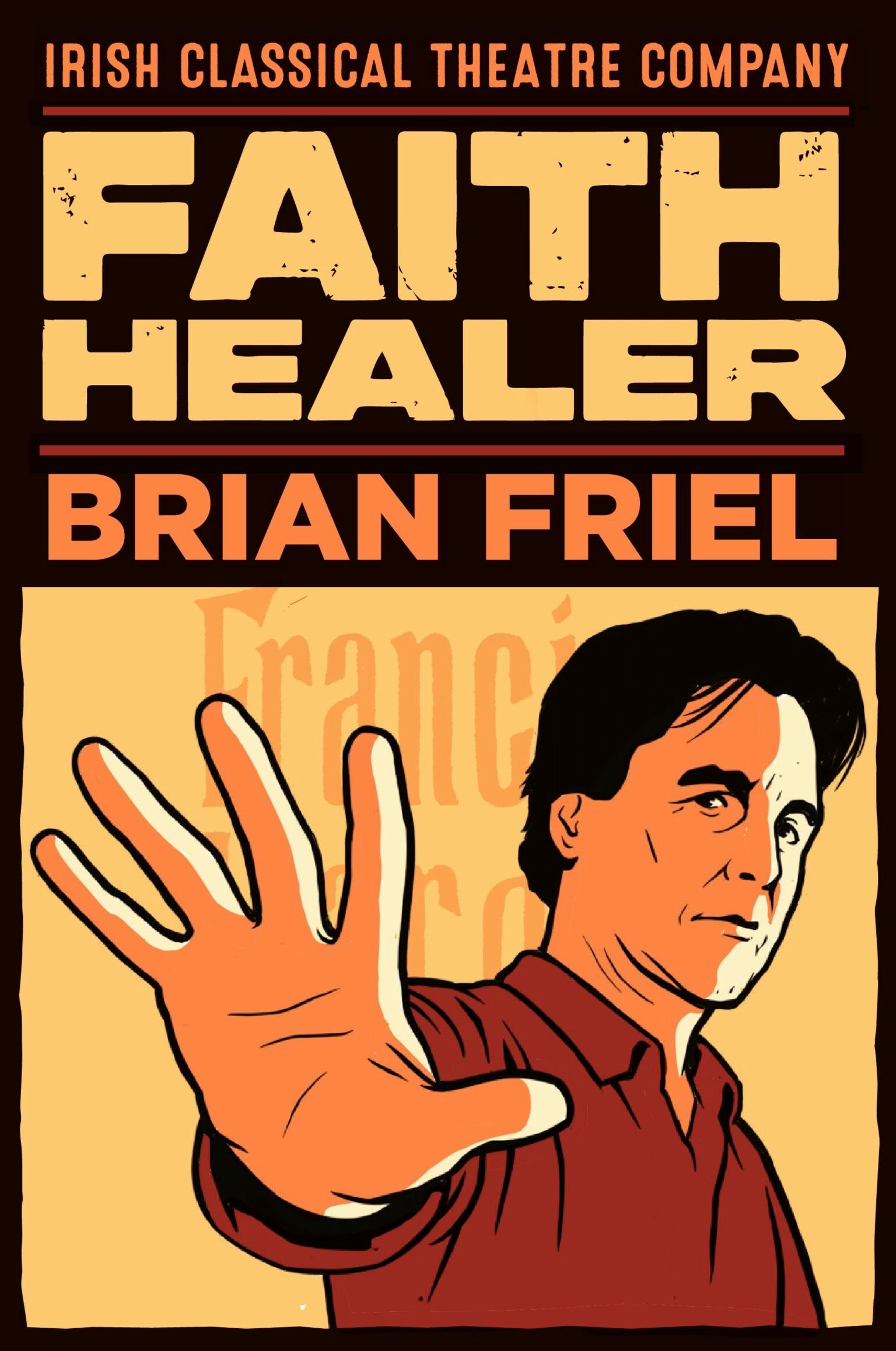 Show Information
View Irish Classical Theatre Company's production of Faith Healer, January 5-28, 2024.
Cast
Frank Paul Todaro*
Grace Margaret Massman
Teddy Vincent O'Neill*
*Member, Actors' Equity Association
ICTC Creative Team
Director
Josephine Hogan
Production Stage Manager
Ryan Wilkie
Assistant Stage Manager
Rebecca Ostrander
Dramaturg
Katie Boswell
Set Designer
Spencer Dick
Lighting Designer
Jayson Clark
Sound Designer
Tom Makar
Costume Designer
Vivian Del Bello
Hair & Make-Up Designer
Susan Drozd
Props Designer
Amber Greer †
Dialect & Speech Coach
Megan Callahan
† ICTC Debut 
Faith Healer
By Brian Friel
January 5, 2024 – January 28, 2024
Directed by ICTC Co-Founder Josephine Hogan
An ICTC favorite, Faith Healer tells the story of Francis Hardy, a Faith Healer who travels around the British Isles offering redemption to those who are sick and suffering. Told in four monologues by Francis; his stage manager, Teddy; and his wife, Grace, Faith Healer is an Irish meditation on the role and responsibility of the artist in society. Long-time ICTC favorite Paul Todaro returns to The Andrews Theatre as the titular character, joining ICTC Artistic Director Emeritus Vincent O'Neill as Teddy, and Margaret Massman as Grace, under the direction of ICTC Co-Founder Josephine Hogan.
Additional Programming:
Open Rehearsal (for Subscribers Only): Wednesday, Dec. 20, 2023, at 6:30 pm
Pay-What-You-Will Performance: Saturday, Jan. 6, 2024, at 3:00 pm
Industry Night: Saturday, Jan. 6, 2024, at 7:30 pm
Young Professionals Night: Thursday, Jan. 11, 2024, at 7:30 pm
Speaker Series: Sunday, Jan. 14, 2024, at 1:30 pm
Community Matinee: Wednesday, Jan. 24, 2024, at 10:00 am
ASL Interpreted/Open Captioned Performance: Thursday, Jan. 25, 2024, at 7:30pm
American Sign Language (ASL) Interpreted & Open Captioned Performances:
ASL interpreters are located in the North West corner of the theatre to give the best sightlines to follow the interpretation and action on stage.
An LED captioning screen, located in the South East corner of the theatre displays the dialogue and any other audio portion of the production in text form in sync with the performance.
For questions about reserving seating in view of the ASL interpreters and captioning signage, please contact ICTC's Box Office at 716-853-4282 (voice), or email BoxOffice@irishclassical.com.
Show Artwork by Michael Gelen, Inkwell Studios.