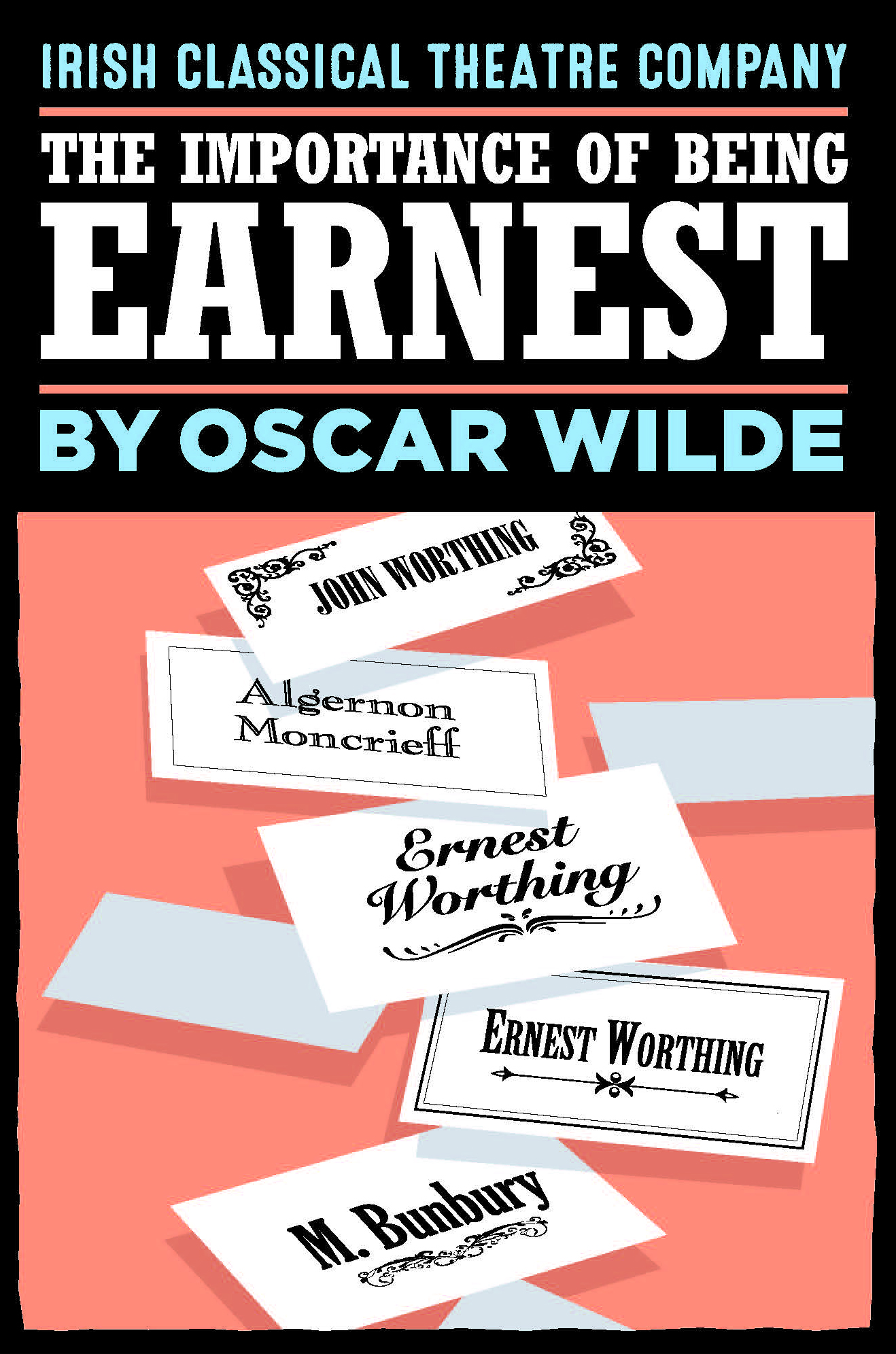 Show Information
View Irish Classical Theatre Company's production of The Importance of Being Earnest, June 2, 2023 – June 25, 2023.
Cast
John Worthing Josh Wilde
Algernon Moncrieff Ben Michael Moran*
Lady Bracknell Chris Kelly
Hon. Gwendolen Fairfax Melinda Capeles
Cecily Cardew Renee Landrigan
Rev. Canon Chasuble, D.D Vincenzo McNeill
Miss Prism Annette Daniels Taylor
Merriman/Lane Charmagne Chi

*Member, Actors' Equity Association
ICTC Creative Team
Director
Kristen Tripp Kelley
Production Stage Manager
Layla Gentil

Assistant Stage Manager
Spencer Dick

Dramaturg
Matt Refermat

Scenic Designer
Collin Ranney

Costume Designer
Vivian Del Bello
Lighting Designer
Jayson Clark

Sound Designer
Tom Makar

Hair/Make-Up Designer
Susan Drozd

Dialect Coach
Josephine Hogan
The Importance of Being Earnest
By Oscar Wilde
Directed by Kristen Tripp Kelley
Oscar Wilde's classic comedy of confused identity lights up ICTC's early Summer. John Worthing is Jack, except when he's Ernest. And his best friend Algernon is Algy… except when he's Ernest. What does Victorian-era code-switching and the quest for self-discovery look like in 2023? Vibrant characters, mistaken identities, and farcical antics come to play in this effervescent finale to ICTC's 32nd Season, helmed by Kristen Tripp Kelley in her ICTC directorial debut.
Additional Programming:
Open Rehearsal (for Subscribers Only): Wednesday, May 24, 2023 at 6:30pm
Community Matinee: Wednesday, June 7, 2023 at 10am
Industry Night: Thursday, June 8, 2023 at 7:30pm
Speaker Series: Sunday, June 11, 2023 at 1:30pm
Young Professionals Night: Thursday, June 15, 2023 at 7:30pm
ASL Interpreted/Open Captioned Performance: Thursday, June 22, 2023 at 7:30pm
American Sign Language (ASL) Interpreted & Open Captioned Performances:
ASL interpreters are located in the South East corner of the theatre to give the best sightlines to follow the interpretation and action on stage.
An LED captioning screen, located in the North East corner of the theatre displays the dialogue and any other audio portion of the production in text form in sync with the performance.
For questions about reserving seating in view of the ASL interpreters and captioning signage, please contact ICTC's Box Office at 716-853-4282 (voice), or email BoxOffice@irishclassical.com.
Show Artwork by Michael Gelen, Inkwell Studios.