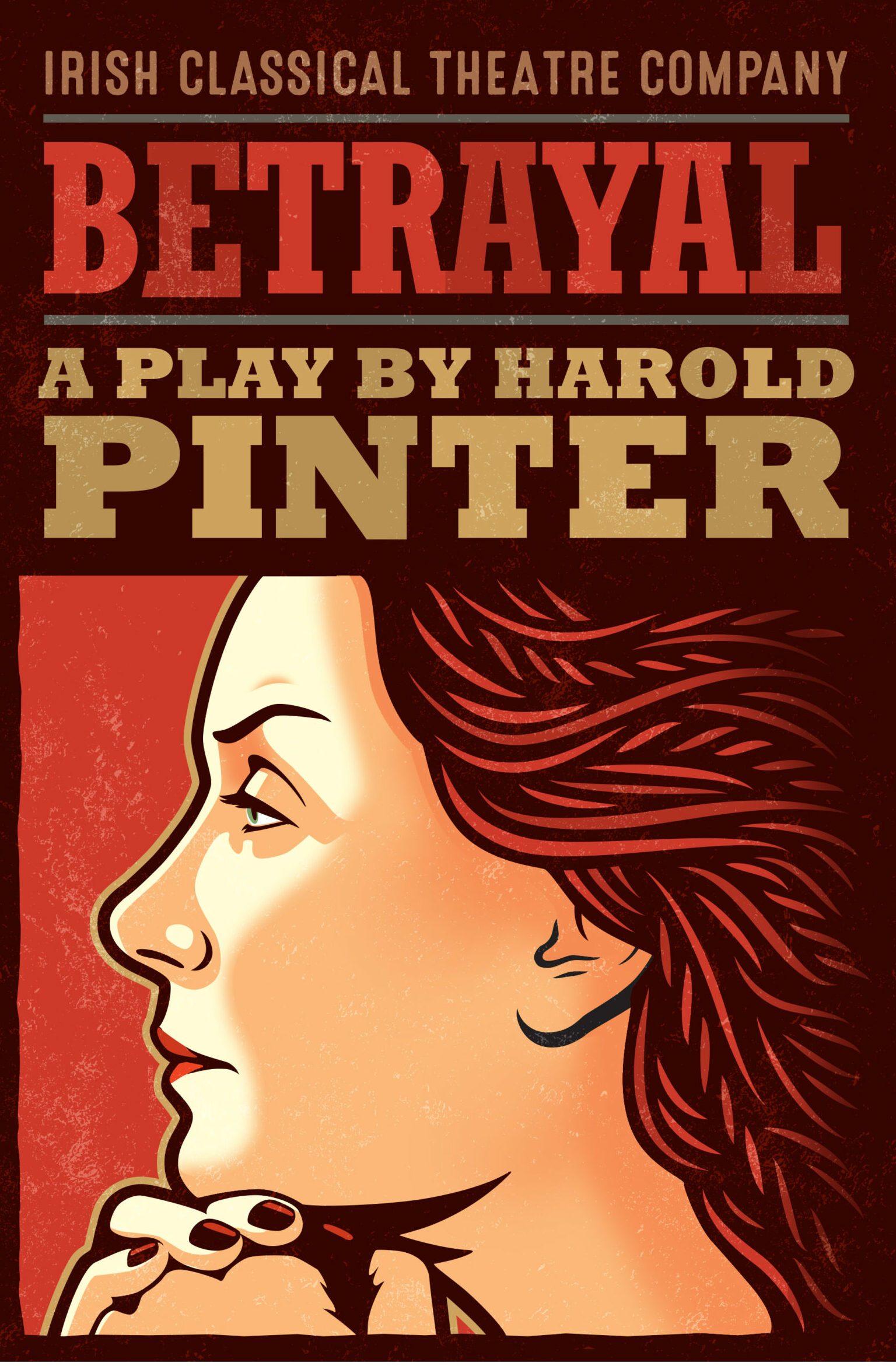 Show Information
View Irish Classical Theatre Company's production of Betrayal, February 23, 2024 – March 17, 2024.
Cast
Jerry Anthony Alcocer*
Emma Aleks Malejs*
Robert Steve Copps
Waiter John Profeta
*Member, Actors Equity Association
ICTC Creative Team
Director
Greg Natale
Production Stage Manager
Lauren Costello Yager
Assistant Stage Manager
Alexia R. Guzmán
Set Designer
Spencer Dick
Lighting Designer
Jayson Clark
Sound Designer
Tom Makar
Costume Designer
Vivian Del Bello
Hair & Make-Up Designer
Susan Drozd
Props Designer
Gianna Lopez †

Intimacy Director
Jessica Hillman-McCord †
Dialect & Speech Coach
Megan Callahan
† ICTC Debut 
Betrayal
By Harold Pinter
February 23, 2024 – March 17, 2024
Directed by ICTC Associate Director Greg Natale
Emma has been having an affair with her husband Robert's close friend, Jerry, for seven years. Told in reverse-chronological order, Pinter's semiautobiographical play explores relationships' layered lies and all the complexities that come with them. ICTC Associate Director Greg Natale directs a powerhouse cast featuring Anthony Alcocer, Steve Copps, Aleks Malejs, and John Profeta.
Additional Programming:
Open Rehearsal (for Subscribers Only): Wednesday, Feb. 14, 2024, at 6:30 pm
Pay-What-You-Can Performance: Saturday, Feb. 24, 2024, at 3:00 pm
Industry Night: Saturday, Feb. 24, 2024, at 7:30 pm
Young Professionals Night: Thursday, Feb. 29, 2024, at 7:30 pm
Speaker Series: Sunday, March 3, 2024, at 1:30 pm
Community Matinee: Wednesday, March 13, 2024, at 10:00 am
ASL Interpreted/Open Captioned Performance: Thursday, March 14, 2024 at 7:30pm
American Sign Language (ASL) Interpreted & Open Captioned Performances:
ASL interpreters are located in the North West corner of the theatre to give the best sightlines to follow the interpretation and action on stage.
An LED captioning screen, located in the South East corner of the theatre displays the dialogue and any other audio portion of the production in text form in sync with the performance.
For questions about reserving seating in view of the ASL interpreters and captioning signage, please contact ICTC's Box Office at 716-853-4282 (voice), or email BoxOffice@irishclassical.com.
Show Artwork by Michael Gelen, Inkwell Studios.